Announcing IKEv2 IPSEC VPN Servers with 384 Bits Elliptic Curve Digital Signature Algorithm (ECDSA), AES 256 bit data encryption and SHA512 Signature hash algorithm.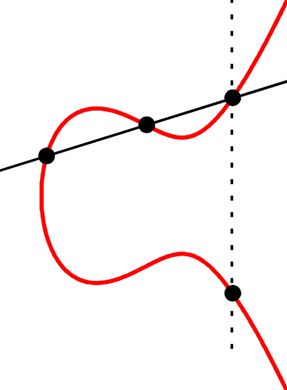 At Acevpn we are constantly working on ways to make Internet better and more secure. An important part of this is enabling our customers to access Internet without worrying about their personal and financial information getting stolen. Elliptic Curve cryptography offer both better performance and higher security than the first generation widely used public key cryptography, RSA and Diffie-Hellman (DH).
Suite B Cryptography for Top Secret Communication:
Our IKEv2 VPN servers use Suite B cryptographic algorithms that is recognized by United States National Security Agency (NSA).
Algorithm
Function
Key Size
Parameters
Advanced Encryption Standard (AES)
Encryption
256 bits
Elliptic Curve Digital Signature Algorithm (ECDSA)
Digital Signature
384 bits
Secure Hash Algorithm (SHA)
Hashing
SHA512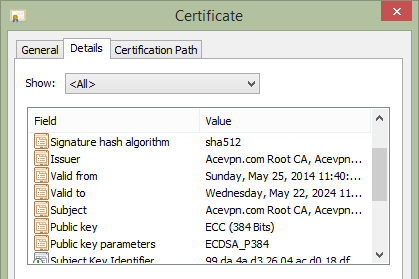 Following VPN protocols, servers and services are supported by Acevpn. Your subscription includes access to all these protocols and services.
| | | |
| --- | --- | --- |
| VPN | Protocol | |
| IPSEC IKEv2 | UDP | 384 bits ECC (Equivalent to RSA 7680 bits) and AES 256 bit encryption. |
| OpenVPN | UDP, TCP | We have servers running on port 53, 80, 443, 1194, 8292. RSA 4096 bit and AES 256 bit encryption supported. |
| L2TP | UDP | AES 256 bit encryption |
| PPTP | TCP | Avoid if you can |
| Smart DNS | DNS | Designed for video streaming. |
What this mean to you?
Your Internet communication is protected by the encryption algorithms that government agencies rely on.
We do not log, making our service super secure and private.
Never again worry about Wi-Fi snooping, Firesheep, Eavesdropping.
Works in China, Dubai and all over the world.
Devices and Operating systems supported (Installation guide coming soon):
We will be rolling Elliptic Curve IPSEC VPN on all servers. In the mean time if you like to try it out please contact us.
Thanks for choosing Acevpn.com for your Internet Security and Entertainment needs.